Coming Events

In this workshop, participants will apply vocal techniques to help them speak audibly, show authority through body posture, occupy space and breathe comfortably to deal with stress.

Producing a MOOC consists of creating online activities and video resources for students to acquire knowledge. It includes the design of assignments that allow students to reach clearly defined learning objectives. 
This workshop is an opportunity to learn how to  produce material that is compatible with the MOOC format using existing lecture notes, presentation slides and exercices. 
During the workshop you will see how to modestly span from transforming a few of your lectures into mini-MOOCs up to the editorial process to start producing a full MOOC at EPFL.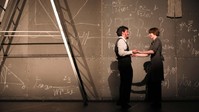 Do they hear me? Exploring breath and voice and articulation.
Do I allow myself being seen and heard? Exploring bodily tension and release as basis for facing an audience and dealing with stage fright.
What if the situation turns out differently than planned? Paying attention to the here and now as basis for improvising and spontaneous solutions.
How can I hear them? Caring for your audience as basis for developing an engaged learning/teaching situation.